Definition of Insanity?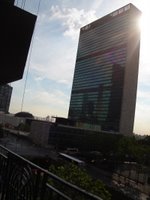 North Korea
says
they will continue to test their missiles. (As poorly as they have been performing, can you blame them?) Israel and the Palestinians are escalating threats of violence. I'm sure Iran doesn't like all these other natiosn gobbling up press-time, so you can count on Amhadinejad doing or saying something very loudly in the next couple of days.
Don't all these folks realize that whoever isn't with us is against us? Haven't they taken the lesson of Iraq that we aren't going to play nice anymore?
Maybe bullying is not a necessarily effective way of fighting the war on terror and keeping rouge nations at bay. And, while we're here, what makes them rouge nations, anyway? That they won't play by our rules? Those of the United Nations? Seems to me we pick and choose just what international treaties and declarations we will adhere to ourselves.
Insanity is doing the same thing over and over again but expecting different results.